Lip na Cloiche Garden and Nursery
follow us on Facebook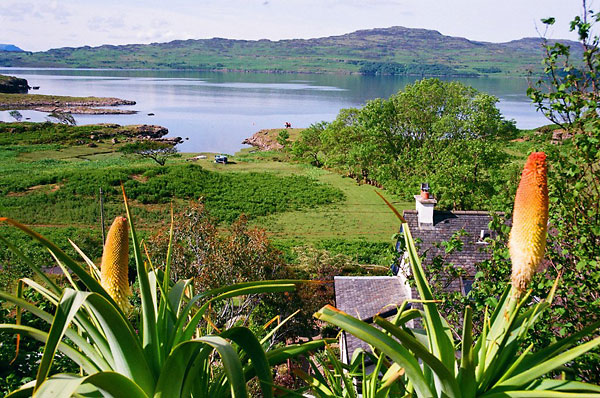 The garden at Lip na Cloiche has been designed to be both attractive and informative. Whilst the planting illustrates the wide range of varieties that can be successfully grown in gardens in the mild western climate of the Isle of Mull, the imaginative use of driftwood and 'found objects' integrates the garden with its immediate landscape.
There is an eclectic and comprehensive collection of small trees, shrubs and herbaceous plants, including Chilean and New Zealand rarities. The garden was planned for long-season interest, providing a pattern of good planting ideas all year round. A picturesque burn is planted with primulas, mecanopsis, gunneras and other damp-loving specialities.
The nursery area displays a wide range of plants at competitive prices. These are all propagated from the garden stock, and are therefore hardy and well-adapted to the local conditions.
The garden is open from dawn until dusk all year round, and visitors are always welcome.
There is no admission charge; however a donation would be appreciated if you wish to visit the garden;
25% of money raised is donated to local charities.
2008 ~ North of Mull Pony Club & Mull indoor Young Athletics. - £100
2009 ~ Young Musicians of Mull. - £144
2010 ~ Mull Sea Cadets. - £207
2011 ~ Ulva School Comm. Assoc. - £295
2012 ~ Tobermory Girl Guides. - £303.50
2103 ~ Ulva Primary - Tag Rugby kit. - £306
2014 ~ Isle of Mull Coastal Rowing. - £424.84
2015 - Isle of Mull Riding for the disabled. - £797.95
2016 - Isle of Mull Riding for the disabled. - £882.50
2017 - Isle of Mull Riding for the disabled. - £1,185.05
2018 - Isle of Mull RDA & Marie Curie - £1,174.25
2019 - Isle of Mull RDA & Marie Curie - £1,333.91